Okay Christmas is coming and who wouldn't love to spread that dollar a lot farther this year and make it a Christmas to remember. I for
one am tightening the purse strings this Christmas and all the awesome

bloggers

in the worked are helping make that not matter!

See a few weeks ago I won TWO Hasbro games from

McMommy

! Which was so Awesome because I have two kids who LOVE to play games and there was one for each age. I have never won anything, ever! So it was doubly exciting and has made me, I'll admit a little cocky. So see I am going to test my awesome luck
and see what other amazing prizes I can win for Christmas presents!

Oh you want me to share them with you? Well I will, but not because I am being nice (see I want to win) but because by blogging about it I get extra entries!

First up:
The Chrissy

McCEO

and Mellisa (again we don't hold her spelling mistake against her) are hosting a Stuff Your Sticking Blog Party. Which is awesome since my stocking has been empty since the little ones came and there is no cash for Tiffany's ( Hubby likes to go big or go home, so hubby if your reading, click that link <-- you can go big this year!). So if you want to join in on the fun and get some stuff that is all

fo
r mommy, Click on that little stocking on the right over there and head over. They will be giving something away every Saturday through December 19

th

. Next it is the lovely

DiPaola

Mom over at Chicken Nuggets of Wisdom.
She is like the queen of swag, you should see all she won at a Twitter Party if only I understood Twitter and how those things worked, I would totally be joining in on that! Anyways, like me she would actually like to have Jillian Michael's come over and whip her but into shape! Since that's not happening she has the next best thing. A

WII

FIT BOARD

and Jillian's Game!

! Which is awesome because than I can cancel that gym membership that is only working out my wallet and exercise in the comfort of my own home!

Jolly Mom is working hard to make my Christmas brighter! She is doing a giveaway from one of my favorite companies, Plan Toys. We love them, they are all wood and innovative and fun and even if I don't win, if I just introduce someone to their

awesome

toys and games it was worth it! She's giving a way the Push Along Duck and it is the cutest push toy ever!

Divine Miss Mommy must have heard my husband

complaining

. See I am not very domestic to begin with but since we killed our old

Oreck

on the new shag carpet (here

when

we moved in people!) I vacuum in less than before (yes it's possible) because we have a cheap

bagless

version from Target and it's loud, and heavy and I really don't like seeing all the gross stuff it vacuums up! She is giving away an

Oreck

Halo and that would be totally awesome!

Lastly (and I am really hoping you haven't
read this far because I do not want to share this one!) Jolly Mom is giving away this: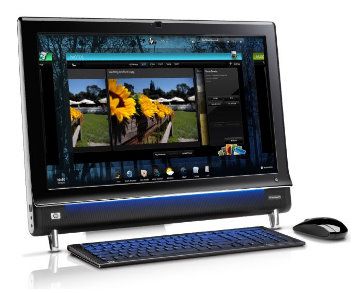 and you wouldn't want this, it's just a totally awesome new HP touch Smart 600 computer but really you wouldn't be interested in it all.