I've been unable to get a Sunday Post up in awhile and there are some posts (and bloggers!) that I really wanted to share. So I am linking up with Friday Faves at Life Without Pink: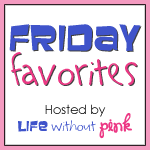 (although I'm not sure she is hosting one today, let's pretend anyways okay?)
First up if you haven't been by
Hyacynth's
this week to read Write Pink! Prevention week please do! Comments on any post from the week (or all of them!) will enter you for a chance to win this tee:
And don't forget that Write Pink! Moves here next week for Support! I will be hosting the Bigger Picture moment on Thursday and we have two more great incentives from
SoSartina
and
It's All in the Bag
!
So on to my faves (not all from this week, I am so behind):
Comments closed, go visit some of the links!