I have already established that I have issues, and the biggest one is
sewing original Halloween costumes
. I may consider drugs before embarking on them next year!
Everything started off plain, simple and easy. My daughter has few interests besides annoying her brother. She has recently started a small obsession with Fancy Nancy
books. One of Nancy's best dress up outfits is a purple tiered ruffle dress, paired with butterflies wings and red ballet shoes.

Note it's white here but it's the best picture, in ours it's purple and red.

Since purple is her favorite color (and pink, and purple, and red, and ALL the colors). She
repeatedly
asked me to make the dress, I said sure. For Halloween.
Done. Easy
Peasy
. I found the perfect fabric one day while in the city and I was so excited.
Apparently I forgot about satin debacle 2009. I also forget that I hate math. I took as little as possible (1
semester
of college
calc
). I had the dress pattern but I had to figure out how many ruffles, how long, how wide. I was lucky enough to find this dress (no longer
available) at Gap.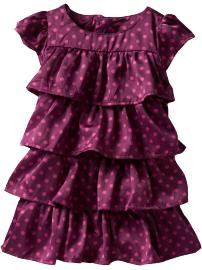 photo credit Gap.com
It would serve as a template AND a back up in case I failed.
I ddin't fail. I swore. Satin is slippery. The perfectionist in me cringes when i see the dress, really. I can see how uneven the ruffles are. However if I look at it as someone else, it's perfect. The fabric was perfect the colors are perfect and she loved it!
face hidden to protect the innocent (per hubs request)
Sadly she had to bundle up under it since she was sick and it was cool. I think she wore it for 30min, visited 3 houses trick or treating and than retreated home to pass out candy with her Halloween ready black cat.
I'm not sad though. The author is coming to our
neighborhood
for an event and book signing. We are going to go, dressed up and ready to have fun! I can't wait!
What?
The other child?
Do we have to talk about it? Really....I'm starting to
hyperventilate
thinking about it, it was so
traumatic
...okay fine, it's for a chance at a new camera. I'll share my pain, to entertain you.
My son has a very active imagination. He liked none of the ideas I
showed
him in the costume books. He HAD to be something from Narnia. After ruling out
Aslan
(the lion), Mr. Beaver, and R
eepicheep (a mouse)
because they were animals that would require mommy to sew
faux
fur him to wear a hood/hat. We finally convinced him to be Prince
Caspian
. Due to Manflu2010 and the above Satin creation I started this costume on Friday October 22. Our first Halloween event was the 23.
What? It was easy, just a top/tunic. How hard could it be? I make dresses, lined, ruffled, out of pants. First. I cut the fabric wrong, and had to go to the store to find more.
Then there was the fabric issue. Did you know Gold Lame melts? Don't go ironing your Go Go dresses! The real issues came when I tried to put it
together
. The main part was a vest and it was lined. The pattern, was
clearly
written in French first and than translated skipping about 6 crucial steps and being put back out of order because no matter how many times I did it (my seam
ripper
and I got very close) every time I flipped it right side out it did this:
My husband (not crafty in an y way shape or form unless it involves wood and power tools) even tried to follow the instructions. Assuming this was me not reading the recipe all the way through and not understanding physics. He declared it impossible.
After a day off I decided to tackle it again on my own terms, and I don't think it came out half bad:
again, face hidden to protect the innocent


All that work, and of the 5 parties/event (not counting trick or treating) he wore it to once. And this is what he did to it:
Oh the tears they flow again. Let's just look at how awesome last years was and move on:
I'm linking up with
The SITS girls Halloween event
because I could really use a new camera! You should check them out, Tiffany is gorgeous, Mama Kat will keep you in stitches and Fran is a genius (they're also awesomely good at what they do)