As I promised, here is my bigger and better THANK YOU! To those
Heroes Next Door
.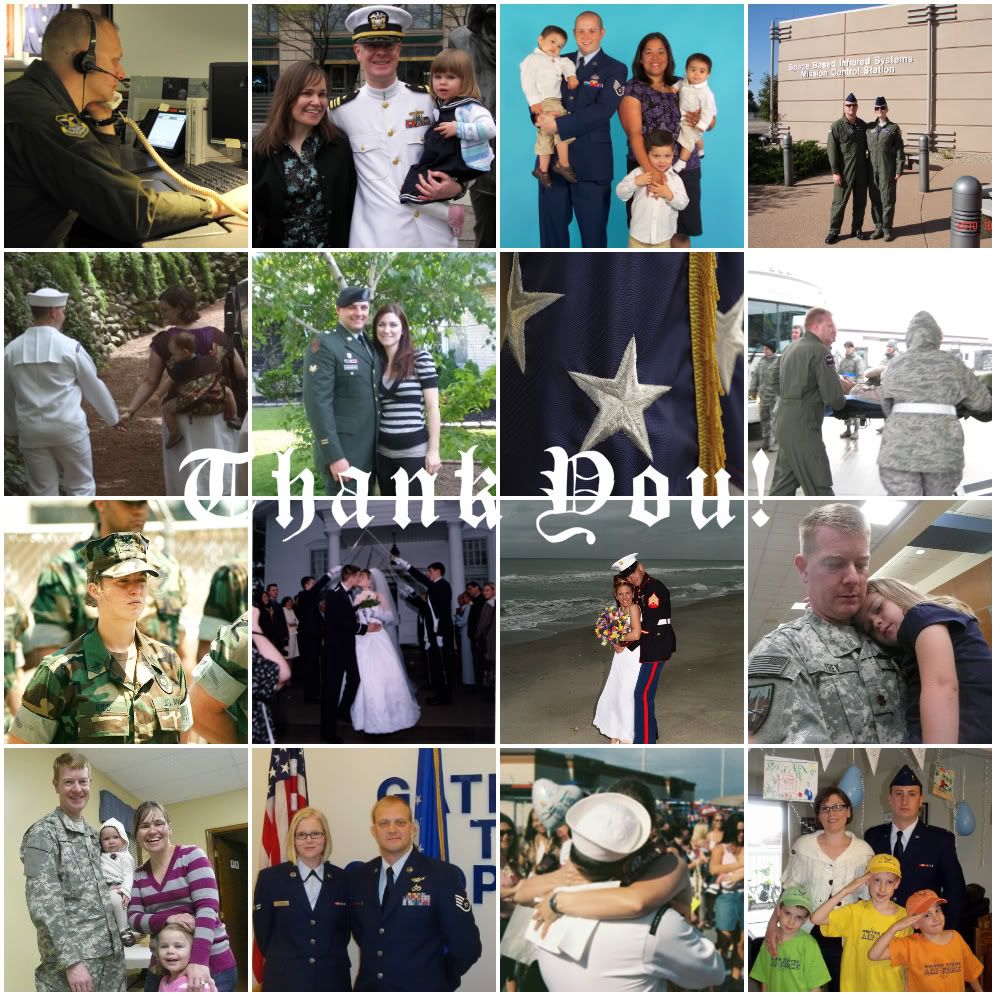 Photo credits: TOP Row:Tim Tichawa- Air Force, Frey Family- Navy,
Lenae Family
- Air Force, Tim & Katie Tichawa- Air Force & Air Force Reserves,ROW 2:
Kate
- Navy, Joseph & Sarah- Army,
FEMA
, Tim Tichawa (in Afghanistan), ROW 3: Rose Brunn- Navy Veteran, Rebecca & Jesse Walker- Air Force Veteran, Aimme & Bobby Zatlin - Marines, Matthew Frey- Navy (currently serving in Afghanistan), BOTTOM Row: Frey Family, Tim & Katie Tichawa, Rose Brunn- Navy Wife, Tasha- Air National Guard
Thank you all for the sacrifices you and your family make for mine!
Starting next week I am going to do a bit of a "re-launch" of The Sunday Post. I love sharing links and posts of other bloggers with you in this space. However there are SO many great bloggers and writers out there that I can't possibly read them all. I envision The Sunday Post becoming like an online version of the Sunday Paper. A collection of stories and pictures, the best of the week.
I am looking for your help in nominating your own post or those of your bloggy friends. Just fill out
this form
. No voting, no hoops, just share your link and I will include it in The Sunday Post. The "loose" (I'm pretty easy going) categories are:
Nation/World Issues (great example would be Hyacynth's response to Jong's attack on Motherhood)
Business (of Blogging)
Sports: Games/Fun (ie: Meme's/events you want to promote/share)
Home & Garden (share your crafty tutorials, recipes, etc. Like the new Savory Saturday)
Arts & Entertainment
Travel
Funnies (the most that made you spit coffee out of your nose, Like Becky's Bloggy Bridal Shower)
Ads (got a giveaway you want to share?)
Magazine: unable to be categorized, the best writing, a photo story, a poem a piece of fiction
Photo: You got it, just a photo, it will be the featured photo at the top of the post- you can just link from your Flickr account
Health/Wellness/Living (like Shell's Pour Your Heart Out)
Oh yeah, I have a loose definition of week too, as long as you aren't digging through archives and it's a million years old, it's cool.
So bookmark
this link
and when you read a post that you think should be highlighted, send it in!
Happy Sunday!