A little Seuss, a little
Silverstein
, all 5year old boy....
Mama, Mommy, Mom, Mom, Hey, what's that your hanging up?
An herb? An ornament? A flower?
A missile? Like a bomb? Like we shoot at bad guy submarines?
Mistletoe?
SMOOCH
What a kiss?
A kissing plant?
Oh no, oh no you won't find me under that!
If you hang it there in the dinning room I will not go into that room.
What's that you say?
In the kitchen doorway?
Oh don't you dare!
I need to be able to get through there!
My toys, the games and all the fun, are down the stairs, Oh forget it I will run!
What's that you think that you're too fast?
Well I will dig a tunnel, underground, that is how I will get past.
I'll dig a tunnel down and under.
I will go around and around and over and down.
SMOOCH
No, no, no! I do not want any kisses.
I do not want them on my cheek,
on my nose or on my feet.
I do not want them in the house.
I do not want them outside the house.
I do not want them from you or her,
I do not want them anymore!
I do not want them here or there, I do not want them anywhere!
If you insist on hanging that weed I intend to be a crabby boy indeed!
This was part or T'was the Write Before Christmas, Day 2 Prompt: Under the Mistletoe .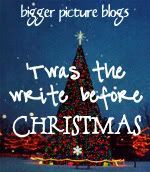 You can join in too, we'd love to read your stories! All mediums welcome. The goal is to take the time in this busy season to focus on something creative.