I'm pretty stereotypical Type A. I rarely
slow down
ever. Even if I wasn't totally a Type A, I have two kids (almost 3, eek!). Quiet time to think and have uninterrupted thoughts is rare. Other than the shower the one place where I do a lot of thinking, pondering, writing in my head, is in my car.
The car has always been a thoughtful place for me. Something about the car makes me contemplative I guess. The Pat Monahan song "
Her Eyes
" has a line that describes me perfectly:
"Scares me to death when she thinks and drives"
Seriously. I used to drive a lot for my former job, all over the Chicago Metro area, many times in the wee hours of the morning. Thankfully the roads were usually empty because I would think a lot and on more than one occasion ended up completely lost, or miles off course.
However I have noticed since moving to suburbia and spending so much time in my car (stereotypical? ranting? can't be that bad? I've put 100 miles on my car since Tuesday at lunch) that my Type A personality has really started coming out. I have experienced more boiling blood and road rage since starting the school drop-off commute in suburbia then I remember in the 5+ years of commuting to Downtown Chicago (south loop for locals). It wasn't pretty, and I needed to figure something out.
I was in one of my thinking moods, but in a hurry, and stopped yet again by another red light, train, back up for no reason traffic when it hit me. These red lights, the traffic, the train, whatever was stopping me at that moment wasn't just a nuisance or annoyance. It was God saying slow down. Relax. You will get where you need to go and I will help you.
My commutes have been a lot calmer since that day. It was such a simple flip of a switch.
Instead of being nuisances to make me late I see them as a reminders to slow down. Reminders placed their purposely, by a loving God who knows me better than I know myself and knows I need to slow down, and when.
A simple change of view, that's my
Simple Moment
that makes up the
Bigger Picture
for me this week. Have you seen the bigger picture? Do you have a simple moment from the week you want to share and remember. Head over to
Hyacnth's
and share!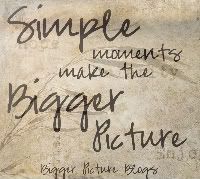 Also shared with Beth's
You capture, circles
.