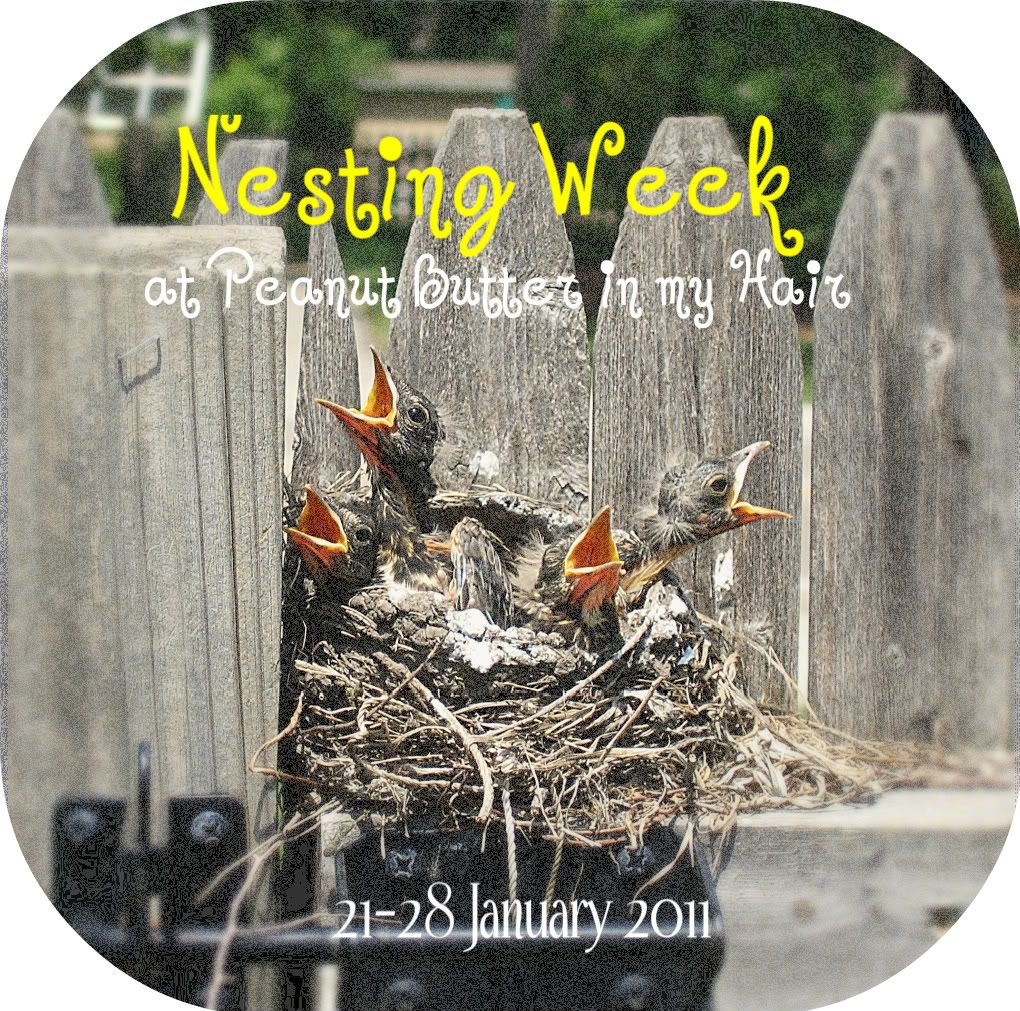 Savory Saturday
is going to move away from Menu Planning for awhile. We are in survival mode over here trying to prepare for baby. That means a lot of flying by the seat of our pants! But it's
NESTING WEEK,
so we're going to talk cravings.
My first cravings with my first son was near impossible to get. It was Fish and Chips, it was September or October and a Wednesday Night (maybe a Thursday?) we called around to several restaurants who did everything but laugh at us. We ended up at a fish place at 4:30 in the afternoon only to find out they were out of the batter! Oh and did I mention that I didn't look pregnant yet so we just looked like an odd (young) couple eating with the grey hairs.
Otherwise my cravings tend to the more normal. I always crave meat, red meat, steak, burgers etc. and sweets. It's been joked that I have peanut butter babies from all the Reese's I eat! This pregnancy has been dominated by the cravings for clementines, orange juice, shortbread cookies and brownies.
A small aside/tangent/ spin off what have you:
I have obsessed about food/weight my whole life. I have always looked at pregnancy as a time to enjoy food, eat what I want when I want it. It has ultimately changed how I view food, but that is a different post. With my first I had milk and Oreo nightly and at least one 7up a day (to fend off nausea). This pregnancy I cut back on the milk and have had almost no soda. We don't keep it in the house anymore so unless we are eating out (fast food) I have had no soda. Result: I have only gained 20 pounds this pregnancy (almost 40 with my first) and passed all my glucose test, with no three hour needed, for the first time (failed with previous two pregnancies).
Back to the cravings.
I have wanted to make cookies for a long time, but I am so pregnant tired. Yesterday my daughter wanted to paint, I countered with making cookies. (what the basement is cold and paint is messy!). I hope you enjoy them as much as I do (warning, if you are on a New Years Diet, click away now, there is no way to make these "light")
Melissa's (almost) Famous Choc-Full Peanut Butter Chip Cookies
Adapted from Betty Crocker's Big Red Cookbook
Makes about 2 dozen
Ingredients:
1 cup granulated sugar
1/2 cup peanut butter (I use crunchy to add to the choc-fullness, my daughter prefers creamy so that's what's pictured)
1/2 cup shortening
1 large egg
1 1/4 cups all purpose flour
3/4 teaspoon baking soda
1/2 teaspoon baking powder
1/4 teaspoon salt
1 cup of peanut butter and /or chocolate chips (we use a mix, you can also use just chocolate)
granulated sugar for topping.
Directions:
1. Heat oven to 375 degrees.
2. Beat sugar, peanut butter, shortening, and egg in large bowl with electric mixer on medium speed or mix with spoon. In a separate bowl stir together flour, baking soda, baking powder and salt. Stir into peanut butter mixture. When all mixed add 1 cup of chocolate chips (we use the mixed bag of peanut butter and chocolate chips)
3. Shape dough into 1 1/4 inch balls. Dip tops (or have your 3yo roll the whole ball) in granulated sugar. Do Not flatten. Place on parchment paper lined baking sheet about 3 inches apart.