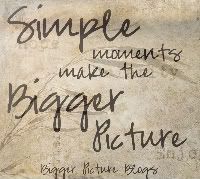 Welcome to Simple Moments. A chance to sit back and reflect on the little things that made up your week. A chat with a friend, all the laundry folded and put away, sharing a story with a toddler, baking with your preschooler. Little moments, caught in pictures or words are the pieces of the puzzle that make up the Bigger Picture that is our life. Please join us!
------------------------------------------------------
I've been celebrating all things baby this week. It's been fun and light to focus on the somewhat frivolous things. It was a necessary forced change of focus and attitude because when left to my own devices I tend to get lost in the in the deep crevices of my own mind. I get easily stressed and lost in the thoughts, the lists, the things I think are important instead of what might actually be important at that moment.
Thankfully I know this about myself and can sometimes step back and correct it. I was becoming overwhelmed with the fear of all that could go wrong in the last few weeks of the pregnancy. I was getting stressed focusing on all that I needed to do before we had the baby and I stopped focusing on the fact that I am here. I am 36weeks and for all intents and purposes everything is going really well and looks really good.
already lost in thought
I'm trying to remember this, keep it at the front of my thoughts. The last 48 hours have been very trying, long, tiring tests of my patience and will. My daughter is sick again. So instead of going to school, and maintaining our routine which gives me some time to get things accomplished I had her home. I was stressing because GAH! Sick again has this been the worst winter ever (or is it just me?)! Also? Honestly? I don't have time for this.
I move into hyper drive, because if I don't have time doing everything faster will make more time, right? I was frantically trying to get through a pile of paperwork to find bills that needed to be paid and found a note from my sons school about a big event with the whole congregation 3 days before my scheduled c-section. I lost it, on my husband. There is just too much to do, to much to take care of too many expectations and how am I supposed to do it all?
That's when he reminded me, "no one but you expects you too".
If my whole family doesn't show up to adopt a grandparent and bake/cook for a party 3 days before I have a baby my son won't be ostracized from school. No one is gong to think I am a slacker, if I don't ever get the office cleaned, or the Christmas Thank You's mailed. No ones going to be offended if I'm not over achieving in the next few weeks. Going above and beyond, at this points I think I get points for showing up.
It's all in my mind, those dark crevices of gray matter tricking me into focusing on the doing instead of the being. So I gave up on yesterday. I quieted the to do and just did what I could. Including napping through dinner with my little one.
Today is a new day, we will try again to get some of the things that need to get done done. I will try to stay out of my brain and focus on my surroundings, because it can get dark in there, and Chicago in winter is dark enough on it's own.
This morning, that faint green/yellow light is the closest to sun we'll get today
Have you seen the Bigger Picture This week? Have a Simple Moment that you want to cherish and remember. Anything, photo, recipe, words, goes. Please link up and share!
Please remember to link to your exact post and not your main blog and try to visit at least the person above you.
Also, keep your feet warm, toasty, comfortable and stylish and enter to win a pair of Hotter Shoes! Ends tomorrow at Midnight!