If you're reading this on Wednesday, pretend it's Thursday. Every time I try to pre-schedule a post with the linky in it, the linky doesn't work. So it's going live Wednesday, but we're going to pretend it's Thursday morning.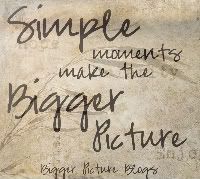 Welcome to Bigger Picture Moments, a place where we step back and take in the SIMPLE things in life. SIMPLE and sweet moments in the mundane or in the hectic that take our breath away. A picture maybe? A poem? A gesture of kindness or things we unwrap during the week. We encourage you to take this opportunity to take a moment and view the Bigger Picture. Whatever that means to you. WHATEVER way you want to outlet that in your blog.
We hope you'll join us. Take a few moments. Think about your week, and pour however little or much onto a page. Then share. Tell us your moment. Link up at the bottom! grab our button, and share your SIMPLE MOMENT, because they make up the BIGGER PICTURE of our lives
.
Every tomorrow has two handles. We can take hold of it with the handle of anxiety or the handle of faith.
Today I am going to grab that handle of faith. I'm going to squeeze my babies tight and say goodbye and go meet the newest baby.
I'm going to push aside the fear and
anxiety
and grab on to the handle of faith and hope that all will turn out as it is meant to be.
It may not be the path we would have
chosen
to get here, but we are here. Today we will become a family of five and welcome a new bundle of love and blessings.
I can't wait to introduce you to him or her (I would suggest you follow on twitter if you impatient).