On any given day I have no fewer than three people to get dressed before leaving the house. Some days I am responsible for all five of us having clothes on our bodies, never mind if they are clean, stylish or matching. Dressing, fashion, clothes, are something that used to be fun and exciting. Putting together a great outfit, the perfect accessories, great shoes. It was fun and exciting. Now I grab whatever I can find in the less than five minutes I have to get myself clothed in between feeding and (helping) dress three kids.
I may not have the time or the funds I did pre-kids to dedicate to fashion but that doesn't mean I have to settle for dressing sloppy. In
Laura Bennett's
"
Didn't I Feed You Yesterday?"
she dedicates a chapter to being glamorous. It's dog-eared and marked up. My favorite line is:
Style is not about money. It's about making a conscious decision to present yourself to the world in particular manner. Does my style say my kids have taken over my life and I haven't had sex in decades? Or does it say I'm fabulous...
I could seriously quote the entire chapter it's that good (so go pick up a copy!). Its not a matter of going out and spending a lot of money on clothes, it's about taking the time to think about what I'm wearing and what that says about me. Do my clothes make me look like a tired mom? I know for a fact that I act how I dress and if I spend all day in sweats or pajamas, un-showered, and un-put together I am slow and lethargic all day. The days where I get up, shower and put together a cute outfit always lift my mood, and a happy mom makes a happy family!
Inspired by
Erin's
birthday challenge to Dress Like a Girl, we have teamed up to make it a monthly challenge!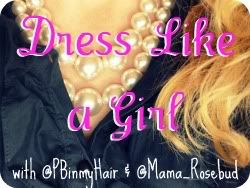 Our goal is to motivate and inspire you and ourselves to get out of our "mom uniform" rut and
Dress Like a Girl
! The first Monday of every month we will announce that months' challenge. You will have a whole month to try it out, make it work for you. Everyone's level of "dressed up" is going to be different, so you need to make this challenge work for you and your wardrobe. You can motivate and keep up with each other on the
Peanut Butter in my Hair
and
Cultivating Rosebuds
Facebook pages. Then next month Erin and I will both host a link up where you can link up a post or photo, there may even be prizes!
So grab our button, clean out your closet and get read to
Dress Like a Girl!
Dress Like a Girl May Challenge:
Wear a Dress (or skirt) for the whole day
That means it's your outfit for the whole day, preschool drop off, playdates, etc. Not just put it out, go out to the store, come home and put your yoga pants back on. If you get dressed up every Sunday for church, challenge yourself to do it during the week. Spring is the perfect time to pull out the flowy skirts and cute dresses! I can't wait to hear about how much fun you all had!
Grab the Button: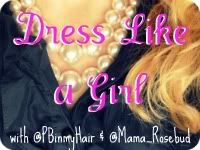 Copy and paste Code