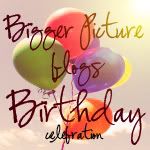 Every Thursday, we share the harvest of intentional living by capturing a glimpse of the bigger picture through a simple moment.
In fact, we've been celebrating these moments for an entire year!
That's right -- Bigger Picture Blogs is turning one year old this week!
We're having birthday celebration at Hyacynth's Place this Thursday, June 23! We welcome you to celebrate this awesome community by stopping by and linking your favorite Bigger Picture Moment from the past year. It can be penned by you or anyone else. And you can submit more than one.
Have a cup of coffee or tea with us that day as we put on our party hats. And be sure to stick around a for a few birthday treats!
Because the journey is so much sweeter with friends.
Live. Capture. Share. Encourage.