The faded and worn boxes.
Yellowed tape holding worn out cardboard together.
Bubble wrap with long ago deflated bubbles.
Yellowed tissues paper that crinkles and breaks.
Within these things are treasures. The treasures of my families past and present history.
There are the ornaments that my grandmother made. Threading hundreds of tiny beads through pins and sticking them precisely the right place all around a Styrofoam ball.
There's the ornament that my husbands grandfather made in his wood shop.
There is the store bought one, part of a collection commemorating our first 10 years together, the birth of our children, our new house.
You can see how tastes have grown and changed. Where we have been, what we have done.
We carefully open each box and ooh and ahh, and remember the stories behind them.
I love the stories, it's my favorite part of the holiday. Sharing with my children the tales of people they don't know. Making them giggle at the thought of mommy and daddy being little like them.
Connecting our past with our future, it's the best part of the holidays for me.
We're taking 5 minutes to reveal in the creativity and inspiration of the season, join us? 'Twas the Write Before Christmas (but it could also be the Photo, the Poem, The Recipe, the....) Who knows where the prompt will take you...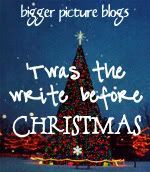 But WAIT! There's more!
I want to see your ornaments and hear your stories (and okay, maybe get away with a kind of easy week of blogging too!) Will you share them with me?
Starting next week,
December 19th
come back and link up a picture of your tree, or a special ornament or 5 and tell me about them. Where you got them, why you love it...I can't wait to hear your stories friends!