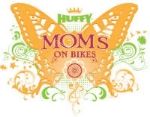 As a 2013 Huffy Mom's on Bikes I will be sharing with you my experience getting out on the Wondrous Ride. Huffy wants to see what you will find on your own wondrous ride. Share a picture of what you've seen on your bike, like mine above, and you will be entered for a chance to win a Huffy Cruiser of your own. One of the top ten photos will receive a Grand Prize of a family of four Huffy Bikes. Head over to the
Huffy Moms on Bikes Facebook page
to enter your photos today!
Our house is overflowing.
With love,
children,
noise,
stuff.
It's a wonder anyone can find anything. In fact I'm pretty sure a huge part of my day is spent answering "
Mom have you seen _______
?" "
Honey do you know where _______ is?
" Apparently mom's eyes have super powers that can see things others can't. Seeing things that others can't is one of the things I love about hitting my local trails on my bike. Slowing down to see the natural beauty around us.
The patterns that the trees make on the sky above.
The grass blowing in the wind.
These are the things that I miss when I am rushing through life and zipping around in my minivan. I love taking the time for me to hop on my bike and see how wondrous this world around us is.
The sticky: I am a Huffy Mom's on Bikes Ambassador. I have been compensated for my time in producing posts on biking for 2013. My family also received bikes and safety equipment. As always all opinions and views expressed are my own.