This post is part of the Campbell's Wisest Kid Ambassador program.
Halloween is almost here! What are you going to be? Do you need some last minute costume ideas? I'm the queen of last minute costumes! We pulled these costumes together the morning before our Halloween Party finishing minutes before we left!
If you are a bit last minute and need some ideas (no judging Halloween is sill 24 hours away!) The Wisest Kid has some ideas for you:
I may wear the beard myself when passing out candy this year!
Living in the Midwest, Halloween planning must always include plans for cold, wet, windy, snowy, all kinds of weather! It's looking to be cool and possibly wet this year. I know have to figure out ow to keep Sleeping Beauty (not shown above) from freezing and our minifigure from melting!
At least I know what I will do to warm them up after traipsing around in the rain! I can't think of a better way to warm up then with a cup of warn Campbell's Tomato Soup (PBToddler's favorite) or Chicken and Stars (for the big kids). Although we have a lot (over 20) of kids on our block, I wonder if I can entice them to stay inside and have a party if I make a bunch of these
mini bites?
While tasty I'm not sure they will give up candy collection for them!
So what will you be wearing and serving for Halloween? Be sure to stop over at the
Campbell's Facebook page
to see what costume the wisest kid decides to wear and find more wisest
kid approved recipes
and
get your own beard
at
the Wisest Kid's Page at Campbell's Kitchen
.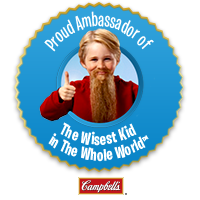 The sticky: I am a Campbell's Soup Wisest Kids ambassador and have been compensated for my time by Campbell's soup company. All thought and opinions are my own
.